Are you searching for the perfect wedding venue in Greensboro, NC? Look no further! In this enchanting city, where romance fills the air, we've handpicked six breathtaking wedding venues that will set the stage for your dream wedding reception. From elegant ballrooms to charming gardens and everything in between, Greensboro offers a range of stunning venues that will leave you and your guests in awe. Get ready to be inspired and discover the perfect setting for your special day among these exceptional wedding reception venues in Greensboro, NC.
6 Best Wedding Venues in Greensboro NC
Without further do, we'll jumpstart this list with our venue, Alexander Homestead.
1. Alexander Homestead
Welcome to Alexander Homestead, the hidden gem just minutes from Uptown Charlotte. Our enchanting venue is renowned for its pristine secret gardens and seasoned wedding and event planners. With over 25 years of experience, our dedicated team will ensure you feel like a guest at your wedding.
We're only 1.3 hours from Greensboro.
Many couples from Greensboro choose us because of our hospitality, experience, and amazing all-inclusive packages.
Your Dream Wedding Day
We understand your desire for a beautiful, intimate, personalized ceremony followed by a lively reception where everyone dances, mingles, and has the time of their lives. This is where our expertise and unwavering commitment shine.
Uncompromised Quality and Service
When you choose Alexander Homestead, you get the best of both worlds. Our wedding experts are at your service at no additional cost, guiding you every step of the way. We offer complete customization, allowing you to tailor your special day exactly to your vision.
What's included in our All-Inclusive Package:
A private, gated, and spacious property accommodating up to 215 guests
Close proximity to Uptown Charlotte, with easy access to hotels of all price ranges and styles, as well as affordable rideshares for your guests, saving you time and money
Ample complimentary on-site parking with attentive attendants and convenient shuttle bus access
An Event Manager who will handle all the contracting and coordination of your in-house vendors and services, ensuring seamless communication throughout the planning process
A dedicated Day-of Coordinator to handle all your last-minute details, ensuring that your day unfolds flawlessly from the moment you arrive until your grand exit
Five hours of breathtaking garden gazebo ceremony and a stunning indoor reception in our modern barn
A complimentary garden party experience for your guests, featuring mouthwatering appetizers and refreshing lemonade during the cocktail hour
Two-hour accommodations in our bridal suite, complete with a kitchenette stocked with snacks and bottled water, ample mirrors, an emergency supply kit, gown hooks, and a private restroom (inquire about all-day rental opportunities for on-site preparation)
A one-hour rehearsal led by your day-of coordinator covering decor placement and ceremony logistics
A two-hour on-site photo session with your photographer before your wedding day, perfect for bridal portraits or engagement photos
Full wedding setup and cleanup, leaving you free to relax and enjoy your special day
Personalized wedding ceremony and reception layout tailored to your preferences
Temperature-controlled indoor space to ensure comfort for you and your guests, regardless of the weather
Ample ADA-accessible parking and restrooms for the convenience of all attendees
Optional partner vendors, carefully vetted by our owner and industry expert, provide an all-inclusive and stress-free experience.
Custom design, planning, and execution of an indoor ceremony as a backup plan in case of inclement weather
Abundant opportunities for stylistic photoshoots featuring the historic house, barn, gardens, covered porches, footbridge, fountains, magnificent trees, pond, gazebo, lawn, and more
Recommendations for vendor partners, known as "Friends of the Homestead," vetted by our owner and industry expert
Inclusive decor items such as welcome and ceremony signs, seating charts, reserved signs, shepherd's hooks, and easels help you save on one-time expenses.
A final meeting 6-8 weeks before your event with your day-of coordinator, ensuring all wedding and ceremony details are finalized for your peace of mind
Complimentary delivery and setup fees for partner vendors, including caterers, dessert providers, florists, and DJs, make your planning process even more convenient.
Exclusive access to our stunning venue
Your choice of chef-prepared entrees and salads
Your preference for plated or buffet catering service
A complimentary food-tasting experience for the couple, offered three times a year for contracted clients
Parking and gate attendants to warmly welcome and assist your guests
Tables for personalized outdoor and indoor layouts
Chairs for both your garden ceremony and indoor reception
Specialty linens for your welcome area, cake table, and sweetheart table
Table linens and napkins, with a variety of colors to choose from (over ten options available)
Specialty chairs for your sweetheart's table, adding an extra touch of elegance
Enderly coffee, locally-owned and roasted, along with sweet tea and water, served at the bar
High-quality flatware, glassware, and tableware
A Banquet Manager supporting the Day-of Coordinator, allowing the Coordinator to focus entirely on you and your family
A dedicated food service and event team provides excellent and efficient meal service, ensuring a smooth and enjoyable experience from arrival to your grand exit
Why Choose Our All-Inclusive Package:
Our structure and processes are designed to create the best experience for you
All taxes and gratuity are included, with no hidden costs
Enjoyable and easy planning process for your loved ones, alleviating their burdens
Your loved ones will not be required to handle any setup or cleanup tasks
Unlimited beer, wine, and seltzer options of your choice, ensuring an optimal guest experience
Bar services that enhance the overall atmosphere for your guests
A dedicated ceremony sound technician and top-of-the-line equipment
Access to our Virtual Marriage Enrichment course offered multiple times throughout the year
No need to research external wedding planners, as our comprehensive package covers all your needs
No additional cost for the day-of coordinator, allowing you to focus on creating cherished memories
| | |
| --- | --- |
| | Description |
| Carriage House | A spacious and luxurious bridal suite/ready room located near the historic house and ceremony site. |
| Nate's Cabin | An ultimate lounge and ready room designed for relaxation, featuring comfortable seating and games. |
| Ceremony Area | An outdoor white gazebo nestled among lush gardens and towering trees creates a picturesque setting. |
| Secret Garden | A stunning oasis with towering trees and lush blooms, perfect for a garden party and beautiful photos. |
| Indoor/Outdoor Reception | Beautiful indoor spaces at the barn offer a choice of rustic chic or modern elegance for your reception. Includes a seamless indoor-outdoor party vibe with twinkling bistro lights and a cozy fire pit. |
Our team has a dedicated plan in place in case of inclement weather. The Alexander Homestead staff will quickly and quietly move everything indoors so your celebration can continue without a hitch. And don't worry, all those lovely wedding gifts will also be tucked away safely.
At Alexander Homestead, we are committed to providing you with an unforgettable wedding experience. Choose our all-inclusive package and let us take care of every detail, so you can relax and savor every moment of your special day.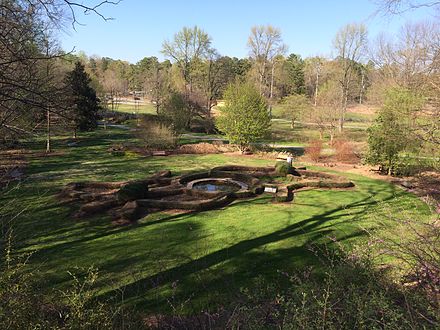 2. The Greensboro Arboretum
Location: 401 Ashland Drive, Greensboro, NC 27405
Conveniently located off West Market Street and Wendover Avenue, the Greensboro Arboretum boasts the captivating Winter Garden Collection, featuring the renowned Tanger Family Gazebo. Throughout the 17-acre garden, multiple sites are available to accommodate intimate gatherings or grand celebrations for up to 150 guests. Adorned with lush greenery, towering trees, and vibrant blooms, this enchanting garden showcases 12 exquisite plant collections and captivating display gardens. Discover charming structural features such as a fountain, scenic overlook, graceful arbor, picturesque bridges, and inviting benches.
Additional Details
Ceremony: Outdoor only

Maximum outdoor capacity: 150 guests

Reception: Outdoor only

Maximum outdoor capacity: 150 guests
Amenities
A dedicated day-of coordinator to assist with your wedding arrangements
Ample parking available in a large parking lot
Restrictions
All decorations must be approved by the venue
Rice, birdseed, confetti, and similar items are not permitted
Catering options are available from a pre-approved list of vendors
Amplified music is allowed both indoors and outdoors
Smoking is not permitted on the premises
Alcohol service must be handled by a licensed bartender or caterer
Music must conclude by 7:00 PM
Security is required for events with over 250 guests, ensuring a safe and enjoyable experience for all attendees.
3. Castle McCulloch
Address: 3925 Kivett Dr, Jamestown, NC 27282
Castle McCulloch is renowned for its diverse selection of venue styles, including indoor, outdoor, waterfront, ballroom, and even styles reminiscent of elegant European royalty. Each option provides a unique opportunity to bring your vision of the perfect event to life. The possibilities are truly limitless, limited only by the bounds of your imagination.
Castle McCulloch's venue spaces
The Great Hall:
Space capacity:

80 guests seated for a dinner-style setting
150 guests seated for a theater or ceremony-style setting

Venue rental includes:

Six 1/2-hour rental of the exquisite Great Hall
Elegant table and chair arrangements
A complimentary 1-hour detail session with an experienced event coordinator
The presence of an on-site operations manager for the duration of your event
Convenient free parking for all attendees
Exclusive 3-hour access to the entire property for your bridal photoshoot
Access to the spacious and well-appointed Bridal Dressing Room
A dedicated one 1/2-hour wedding rehearsal to ensure a flawless ceremony
Queen's Chambers:
Space capacity:

80 guests seated for a dinner-style setting
80 guests seated for a theater or ceremony-style setting

Venue rental includes:

Six 1/2-hour rental of the enchanting Queen's Chambers
Thoughtfully arranged tables and chairs
A complimentary 1-hour detail session with a skilled event coordinator
The presence of an on-site operations manager throughout your event
Ample free parking for your guests' convenience
Exclusive 3-hour access to the entire property for a memorable bridal photoshoot
Access to the elegant Bridal Dressing Room, ensuring privacy and comfort
A dedicated one 1/2-hour wedding rehearsal to perfect your ceremony
There are even more venue spaces you can explore on their website! If you dream of getting married in a timeless castle, this venue may be the one for you :)
4. O. Henry Hotel
Address: 624 Green Valley Rd, Greensboro, NC 27408
Located in Greensboro, North Carolina, the O. Henry Hotel is a luxurious wedding venue that exudes elegance and tranquility. With modern guest rooms and original art, this property offers a vintage and classic ambiance, perfect for couples seeking a glamorous setting for their special day.
Wedding Spaces: Ceremony and Reception
The venue features five exceptional event spaces, accommodating up to 150 guests. The Caldwell Room, the largest banquet space, offers arched windows and access to an intimate courtyard, allowing for seamless indoor-outdoor flow. The Hawkins Brown Room on the terrace level opens into a stunning English-inspired garden, with the option to divide it into sections or combine it with the Palmer Room for a more intimate setting. The Pavilion Room and Cloister Garden provide a bright window-enclosed space surrounded by trees and vines, creating a tranquil oasis for cocktail parties. Lastly, the Merchants and Manufacturers Room offers an intimate and wine cellar-inspired ambiance with antique furnishings.
Wedding Team and Support
The dedicated staff at O. Henry Hotel will assist you in transforming the event space to match your vision. Their experienced planner will optimize every detail, ensuring a smooth planning process. The hotel also provides a luxurious Porter Hospitality Suite where you and your wedding party can relax and prepare for the celebration. Additionally, they offer event services and rental items, including lighting, sound, centerpieces, chairs, tables, altars, arches, and vendor recommendations. Shuttle service and valet parking are available for your convenience.
Catering Details
Let's talk cuisine! The hotel's culinary team can cater to your preferred serving style: a buffet, plated service, cocktail reception, or passed hors d'oeuvres. The menu draws inspiration from diverse flavors and cultures, featuring Mediterranean vegetables, Italian pasta, Spanish paella, and more. Dietary requirements such as vegan, vegetarian, gluten-free, and nut-free options can be accommodated.
Onsite Accommodations
For accommodations, the O. Henry Hotel offers a range of guest rooms and suites for a comfortable stay. The Magi Suite is particularly suitable for newlyweds, featuring breathtaking city views, a bar, a jetted tub, and a spacious dressing area. All guest rooms are equipped with modern amenities, ensuring a high-quality stay. Group room packages are available for bookings of 10 or more rooms.
5. Centennial Station Arts Center
Address: 121 S Centennial St, High Point, NC 27260
The Centennial Station Arts Center in High Point, North Carolina, is an elegant banquet hall wedding venue. Its exquisite hardwood floors and antique finishes create a romantic and sophisticated atmosphere, evoking a sense of timeless beauty. Originally built for industrial purposes in the 1930s, the venue has a rich history that adds charm and provides a unique backdrop for creating cherished memories.
Venue Spaces and Capacity
With its spacious interior, the Centennial Station Arts Center can accommodate up to 200 guests for a grand celebration. The dinner-theatre-style hall is adorned with luxurious chairs. It features delicate string lighting that cascades from exposed wooden beams, creating an intimate and rustic ambiance perfect for your first dance. The venue offers adjustable light fixtures to enhance the mood of your event further. Behind the stage are dedicated get-ready rooms for the wedding party, providing a complete theatre-themed experience on your special day. The venue also boasts a bar, catering facilities, and a dance floor, ensuring guests are entertained throughout the celebration. As an added touch of uniqueness, you can take advantage of an on-site Pullman train car from the early 1900s for capturing memorable wedding photos. This antique train car adds to the venue's old-world charm and offers a delightful sense of novelty.
Inclusions and Amenities
The Centennial Station Arts Center's dedicated team offers complimentary decor options to enhance the ambiance of your celebration. You can choose from various lighting and drapery options and select additional rental items to customize the space according to your preferences. The venue can arrange for professional bar staff to serve beverages, including liquor, beer, and wine. They also provide high-quality sound equipment for speeches, toasts, and musical entertainment, ensuring that every moment of your special day is beautifully amplified. The venue welcomes outside vendors, allowing you to curate the perfect culinary experience, floral arrangements, music, and more.
6. The Groome Inn
Address: 4719 Groometown Rd, Greensboro, NC 27407
Experience The Groome Inn, a historic bed-and-breakfast wedding venue near Greensboro, NC. This charming inn on a nine-acre property offers five unique event spaces for your special day. With up to 200 guests outdoors and 60 guests indoors, The Groome Inn provides ample parking and wheelchair accessibility. Enjoy the convenience of on-site get-ready rooms and let the dedicated staff assist with setup. Liability insurance, bar services, and event items are available, and outside vendors are welcome. Accommodations include three bedrooms and a honeymoon suite.
That wraps up our top six wedding venues in Greensboro North Carolina! Keep reading to see FAQs and more.
FAQ About Wedding Venues in Greensboro NC
When it comes to wedding venues in Greensboro, NC, you'll find SO many options to suit your preferences. From elegant ballrooms to charming outdoor gardens, there's something for every couple. Venues can accommodate intimate gatherings and larger celebrations, with in-house catering or preferred vendors for a memorable dining experience. On-site amenities like getting-ready rooms and parking facilities are often available. With its diverse range of venues, Greensboro offers the perfect setting to bring your wedding vision to life.
What is the average cost of renting a wedding venue in Greensboro?
This is a difficult question to answer. The average cost of renting a wedding venue in Greensboro, NC, can vary depending on the venue's location, size, amenities, and the specific services included. On average, wedding venues in Greensboro can range from around $3,000 to $10,000 or more.
What type of event venues can be found in Greensboro NC?
Greensboro, NC, offers a variety of event venues ranging from barns and farms to hotels, country clubs, restaurants, rooftops, mansions, churches, museums, parks, and historic venues. With multiple public rooms, outdoor spaces, and extra resources, these venues can host many events, including weddings and receptions. Some popular wedding venues in Greensboro include Cadillac Service Garage, McAlister-Leftwich House, Adaumont Farm, Revolution Mill Events, and Castle McCulloch. Each venue offers unique features and amenities, so it's essential to consider factors such as budget, guest size, and style when selecting the right venue for your event.
What are the rental costs for wedding venues in Greensboro NC?
On average, wedding venues in Greensboro NC cost $133 per hour to rent. However, the cost can vary depending on the location, number of guests, and wedding package details. Raw venue space rentals start at $1,100 and average $3,000, while all-inclusive packages start at $1,000 and average $4,000. Couples can expect additional charges for catering, decorations, and event coordination. For couples working with a tight budget, there are affordable wedding venues in Greensboro NC, such as Southern C's Farm, which offers rustic charm and scenic views, or The Longhouse, which offers a unique and intimate setting for smaller weddings.
Are there any outdoor wedding venues in Greensboro NC?
Yes, there are too many outdoor wedding venues in Greensboro NC, to count!
The Gardens at Gray Gables: This charming venue features beautiful gardens, lush greenery, and a serene outdoor setting for your wedding ceremony. It offers various spaces for both intimate and larger gatherings.
Tanglewood Park Arboretum and Rose Garden: Located within Tanglewood Park, this picturesque outdoor venue offers stunning natural surroundings, including blooming gardens, walking trails, and a tranquil lake. It provides a scenic backdrop for your wedding ceremony and outdoor reception.
Proximity Hotel: This eco-friendly hotel offers an outdoor garden terrace that can be transformed into a lovely wedding venue. Its modern design, lush landscaping, and rooftop views provide a stylish and intimate setting for your outdoor celebration.
The Meadows at Walnut Cove: Situated in a serene countryside, this venue offers a rustic and elegant outdoor wedding space. Its sprawling meadows, picturesque pond, and panoramic views create a romantic atmosphere for your special day.
Are there any unique wedding venues or banquet halls in the Triad area?
The Lofts at Union Square (High Point, NC): Housed in a renovated furniture factory, The Lofts at Union Square provide a trendy and industrial wedding backdrop. The exposed brick walls, high ceilings, and urban ambiance give this venue a distinct character perfect for couples seeking a modern and eclectic atmosphere. P.S. – this is temporarily closed as of May 17, 2023 and we are unsure when they will reopen.
Revolution Mill Events Center (Greensboro, NC): Located within a revitalized textile mill, this venue combines historic charm with contemporary design. Its industrial chic aesthetic, exposed brick, and large windows create a unique and stylish wedding setting, accommodating intimate gatherings and larger celebrations.
Childress Vineyards (Lexington, NC): As a winery and vineyard, Childress Vineyards offers a picturesque and romantic setting for weddings. With its rolling vineyards, elegant barrel room, and Tuscan-inspired architecture, this venue uniquely blends natural beauty and refined sophistication.
What cities and towns are near Greensboro and Charlotte?
Winston-Salem | High Point | Concord | Gastonia | Kannapolis | Salisbury | Mooresville | Huntersville | Rock Hill | Statesville | Lexington | Shelby | Monroe | Thomasville | Lincolnton | Matthews | Albemarle | Cornelius | Boone | Hickory | Lenoir | Morganton | Asheboro | Lumberton | Hendersonville | Newton | Graham | Roanoke Rapids | Laurinburg | Reidsville | Kings Mountain | Mount Holly | Indian Trail | Kernersville | Harrisburg | Archdale | Belmont | Mount Airy | Unionville | Oak Ridge | Hope Mills | Weddington | Waynesville | Mount Pleasant | Lewisville | Mocksville | Spring Lake | Belmont | Forest City | Bessemer City | Dallas | Brevard | Siler City | Summerfield | Belmont | Rutherfordton | Long View | Kill Devil Hills | St. Stephens | Nashville | Black Mountain | Valdese | Wadesboro | Oak Island | Troy | Whiteville | Franklin | Ayden | Aberdeen | Stallings | Carolina Beach | Red Springs | Angier | Siler City | Canton | Boiling Spring Lakes | Yadkinville | Zebulon | Fletcher | Cherryville | Creedmoor | Mebane | Cherryville | Warsaw | Aberdeen | Four Oaks | Banner Elk | Gibsonville | Maiden | Creedmoor | Stanley | Denver | Fairview | Rockingham | Granite Falls | Pleasant Garden | Boiling Springs | Farmville | Mount Olive | Troutman
Best of Luck!
Greensboro, NC offers a plethora of breathtaking wedding reception venues that cater to different styles and preferences. From the elegant Alexander Homestead to the luxurious Wyndham Garden Greensboro, couples can find the perfect location to exchange their vows and celebrate with their loved ones. With the help of the vetted wedding planners and group room blocks provided by these venues, couples can rest assured that their special day will be everything they've envisioned. We encourage you to consider these venues for your own wedding celebrations and create unforgettable memories that will last a lifetime.